Allentown, Pa. – U.S. Senators Joe Donnelly (D-IN), Pat Toomey (R-PA), Tom Cotton (R-AR), Joe Manchin (D-WV), and Gary Peters (D-MI) reintroduced the Preserving Access to Manufactured Housing Act, bipartisan legislation that would protect the ability of manufactured home customers to buy, sell, and refinance homes, while maintaining important consumer protections.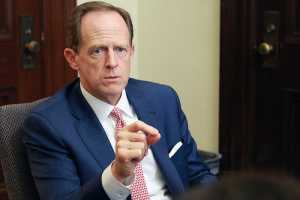 Donnelly said, "As Hoosier families work hard and save to buy a home, we need to ensure they have access to affordable housing. For many Americans, manufactured homes are the most affordable form of housing available. This bill would help prevent federal regulations from getting in the way of financing for families that need it. I am grateful a bipartisan group of colleagues joined me in introducing legislation to keep manufactured housing obtainable for working class families."
Toomey said, "The manufactured housing industry is an important source of jobs and affordable homes for thousands of Pennsylvanians. Unfortunately, financing for the product has been jeopardized by one-size-fits-all regulations that fail to recognize the unique nature of manufactured housing loans. By fixing these ill-conceived rules, our bipartisan legislation will protect jobs and ensure that Pennsylvanians can obtain financing to purchase an affordable home."
Cotton said, "The CFPB's overly zealous regulations have made it harder for lenders to offer mortgages for manufactured housing. And the harder it is to get these kinds of mortgages, the fewer options Arkansan families will have. We're reintroducing this bill so it's as easy as possible for families in rural areas, like my home state, to find the home they need."
Peters said, "Homeownership is a key part of the American dream, and the manufactured housing industry provides affordable housing to over 1,100 Michigan communities. This bipartisan legislation is an important step to help promote home ownership and improve access to quality, affordable housing for many Americans."
Federal guidelines issued by the Consumer Financial Protection Bureau (CFPB) went into effect in January 2014 to expand the range of loan products considered high-cost mortgages under the Home Ownership and Equity Protection Act (HOEPA). The impact of the rule is that small-balance loans used for the purchase of affordable manufactured housing could be classified as high-cost, which results in increased lender liabilities that often lead to a loss of credit availability for those seeking to purchase manufactured housing.
The Preserving Access to Manufactured Housing Act would help adjust HOEPA thresholds so fewer manufactured home loans are classified as high-cost. Under the HOEPA guidelines, if a transaction is for less than $50,000 and the home is considered personal property, then the interest rate on a mortgage cannot exceed Average Prime Offer Rate (APOR) by more than 8.5% or else it is considered 'high-cost' and subject to added liability and disclosure. The bill would change the threshold to APOR + 10% for transactions under $75,000. Additionally, the bill clarifies when manufactured housing retailers and salespersons should be classified as a loan originator.