Scranton, PA – (RealEstateRama) — Governor Tom Wolf today joined Senator John Blake to announce a $3 million state grant to aid in the redevelopment of vacant buildings in downtown Scranton into multi-use classroom and laboratory space at Lackawanna College. Once construction is complete, the six-story, 95,300 square-foot structure located at 401 Adams Avenue will be known as "Cornerstone Commons."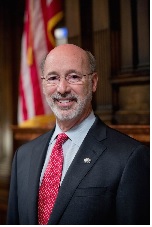 "Lackawanna College has long been an institution deeply rooted in the Scranton Community," Governor Wolf said. "The Cornerstone Commons project will not only support further growth of the college's education programs at the main campus, but contribute to the economy of Scranton, will remove and recreate a former underutilized complex, and will help to stabilize the area from further decline."
The $3 million Redevelopment Assistance Capital Program (RACP) grant will allow Lackawanna College to complete a full renovation of the 1970s-era building, which will house classrooms, conference rooms, administrative offices, and laboratory space to support the operation of academic degree and continuing education programs.
"This $3 million grant for the Cornerstone Commons project is another extraordinary investment by the state in the City of Scranton through the Redevelopment Assistance Capital Program," Sen. Blake said. "Once renovation is completed, the improved buildings and streetscape in the heart of our downtown will be used to expand academic and continuing education programs. Governor Wolf and I are glad to announce this partnership with Lackawanna College which will leverage significant non-state investment in the future of the City and the region."
"Lackawanna College is extremely grateful to Governor Wolf, Senator Blake, and the Commonwealth of Pennsylvania for their investment in our project, our students, and our community," said Mark Volk, President of Lackawanna College. "We have remained focused on providing high-quality educational opportunities at an affordable tuition level, and investments like this allow us to develop and expand exceptional programs and state-of-the art facilities without directly translating the costs to our students. Once completed, we will have taken a long-blighted property and repurposed it in a way that not only adds jobs and revenue to the city but also significantly upgrades the educational and quality of life offerings for our students."
The project is expected to create 110 non-permanent jobs during construction, with an additional 66 new full-time jobs and 21 new part-time jobs once the project is complete.
"Lackawanna College is an integral part of our community and provides an affordable college education to area students," said Rep. Frank Farina. "I am happy to support funding for this worthwhile project and I thank Governor Wolf for his efforts. Congratulations Lackawanna College."
Like Governor Tom Wolf on Facebook: Facebook.com/GovernorWolf