Harrisburg, PA – March 12, 2010 – (RealEstateRama) — As neighborhood deterioration continues to sweep through Pennsylvania's urban areas, particularly in Philadelphia, a plan to fight blight proposed by Rep. John Taylor (R-Philadelphia) was endorsed last week by Dan Kildee, a leading national expert on land banking.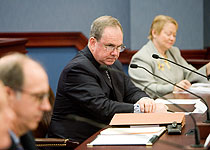 "Not only is Rep. John Taylor right about offering this land banking legislation now, but he has been right about it for a long time." said Kildee, the president and CEO, Center for Community Progress, headquartered in Washington, D.C. "Taylor was the first person to invite me to Pennsylvania to talk about land banking and I commend him for his persistence."
Kildee testified March 11 before the House Urban Affairs Committee about the value of land banking and the importance of Taylor's House Bill 712. If enacted, this bill would enable local governments to establish land bank authorities equipped with the power to maintain develop and resell tax-foreclosed properties.
"Land banking is an effective and efficient system for communities to convert these properties into community assets which are consistent with local plans for growth and development," Taylor said.
Land banking authorities are an alternative to the traditional auctioning off of foreclosed properties to developers who many times have little interest in redeveloping the properties they purchase.
"Unscrupulous real estate speculators are the real blight on our neighborhoods," Taylor said. "They purchase houses from the most vulnerable at cut rate prices and then do nothing to rehabilitate them. We must combat these slumlords on all fronts with all available resources."
Taylor has also offered two other bills to complement House Bill 712.
House Bill 711 establishes a process for declaring properties abandoned and for ensuring that, when sold at tax sale, they are demolished or rehabilitated and returned to productive use. House Bill 709 establishes a community development corporation to take out letters of administration to oversee the estate of a deceased individual if no one else is willing to manage the estate.
Other anti-blight measures co-sponsored by Taylor include House Bill 1322, which reduces the statute of limitations from 21 years to 10 years on property less than an acre that has been allowed to deteriorate by the owner so it can be retitled to the person who has had a long-standing and productive relationship with that property.
"The right to own property is an important one," Taylor said. "But I believe it is just as important for responsible homeowners to be able to enjoy their property without having to deal with the devastating socioeconomic consequences of blight caused by irresponsible landowners.
Taylor's land banking legislation is currently awaiting a vote in the House Urban Affairs Committee.
Rep. John Taylor
PA House of Representatives
177th Legislative District