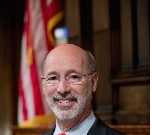 Governor Tom Wolf today announced that the U.S. Small Business Administration (SBA) approved his request to declare a disaster in Bradford, Columbia, Delaware, Northumberland, Schuylkill and Susquehanna counties after significant flood damage to homes and businesses was sustained from severe storms between Aug. 10 – 15, 2018.
PHFA recognized the work of the state's private sector housing counselors today during an event at the Harrisburg Hilton. These counselors help PHFA achieve its housing mission by assisting state residents with questions about homeownership, home foreclosure, budgeting and their personal credit score so they can make better informed housing decisions.
The Pittsburgh Bureau of Police, in collaboration with the Housing Authority of the City of Pittsburgh and the Buhl Foundation's One Northside Initiative, hosted a grand opening of the Northview Heights Public Safety Center in early December 2018
The Housing Authority of the City of Pittsburgh (HACP) was issued a $1 million grant by the U.S. Department of Housing (HUD) as part of the department's Lead-Based Paint Capital Fund Program.
Governor Tom Wolf announced new funding for the redevelopment of the former Crane Iron Works site located in Catasauqua, Lehigh County. The more than 12-acre property will be developed into a mix of commercial, residential, and public uses.
Clean Slate E3, the nonprofit affiliate of The Housing Authority of the City of Pittsburgh (HACP), is pleased to announce that it is prepared to award 10 scholarships to residents of HACP housing for the 2018/ 2019 academic year – a commitment of $200,000 over the next four years.
Clean Slate E3, the nonprofit affiliate of The Housing Authority of the City of Pittsburgh (HACP), is pleased to announce that it is prepared to provide up to 10 scholarships to residents of HACP housing for the 2018/ 2019 academic year – a commitment of $200,000 over the next four years